As many of you know already, I've written about a lot of up-and-coming country music artists. Obviously, there are a lot of musicians out there trying to find their place in , but not everyone is destined for stardom. Today, you are in for a real treat.
I first came across Big Machine Label Group recording artist Ryan Follese (that's "fall-uh-ZAY") when I heard the folks at KRTY promoting that he would be opening for both Cassadee Pope and the Eli Young Band in San Jose in early November. I was lucky enough to be in California that week to catch both shows and let me tell you this: he is something special. When I talk about artists that you need to drop what you are doing immediately and take a listen to, Follese is one.
As a bit of background, Ryan Follese  co-wrote each of the six tracks on his self-titled debut solo EP, including "Put A Label On It," which hit country radio earlier this month as his first official single.
Additionally, SiriusXM kickstarted the launch this summer, selecting Follese as their "Highway Find" and spinning his summer vacation anthem "Float Your Boat." Selling more than 40,000 downloads to date, and amassing nearly 2 million streams, the Ryan Follese EP was recorded with producers Dann Huff and Cameron Montgomery in Nashville. While the aforementioned songs might have received the notoriety to date, don't miss other great tracks such as "Wilder", "One Thing Right" and "Lose a Little Sleep". "Wilder" might be my favorite of the bunch.
In speaking with The Boot, Follese described the EP as follows:
"It is definitely country. It is a look into my life over the last year, which, in my existence so far, has been the most real-life stuff that's happened to me in the last year. You won't get that all from the lyrics necessarily, but the meaning and how much heart and effort I put into this is a result of just coming of age, I guess."
Now you may not know this, but Follese originally hit it big on the pop scene. During his successful run fronting the band Hot Chelle Rae, Follese co-wrote their #1 hit "Tonight, Tonight" and toured around the globe, featuring arena dates with none other than Taylor Swift. You might not remember, but Follett performed on the 2012 CMT Music Awards with Lady Antebellum, secured a performance on Dick Clark's New Year's Rockin' Eve with Ryan Seacrest and wrote"Thug Story" with Swift and T-Pain. Follese also earned the 2012 American Music Awards' Best New Artist award. Not bad, right?
Recently, Follese refocused his songwriting, going back to his country roots to incorporate the storytelling lyrics and influences he was raised on. It doesn't hurt that he grew up surrounded by the music of his songwriter parents, Keith and Adrienne. Not a bad household to grow up in! Their songwriting catalogue includes major hits for Tim McGraw (Something Like That), Faith Hill (The Way You Love Me), Little Texas (Life Goes On), Lonestar (Smile) and Martina McBride (I Love You). Currently previewing his new music nationwide, Follese has been tapped for Live Nation's 'Ones To Watch' Tour with headliner (and one of my personal favorites) LOCASH.
What really stands out for me is how Follese has seamlessly transitioned from pop-rock to country music. I've seen a number of artists go the other direction, and a few that have tried to join the country ranks, but I have a feeling that we'll look back in a few years and realize that Follese made the right decision. Granted, he has the advantage of some strong country music lineage, but he's done this for himself.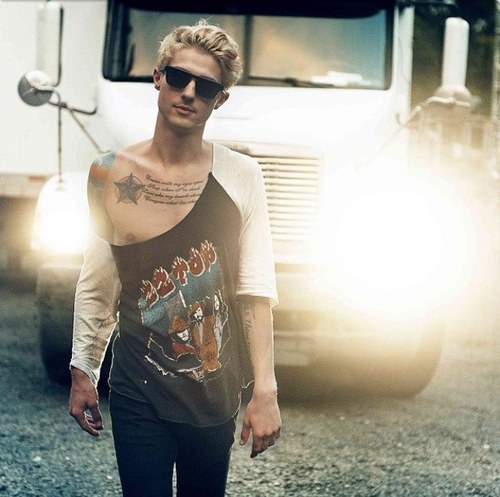 When speaking of his transition in an interview with Sounds Like Nashville, Follese said:
"It is coming back to my roots. I wish there was a better way to say it but it really, that's what it is. I grew up surrounded in country and I feel like that's what made me want to start a rock band to begin with. Just like, you revolt against your parents. Country music was the only thing I knew until I was a teenager and then I was like 'oh, I want to be in a rock band!'"
Additionally, here's what Follese had to say to The Boot:
"Country chose me. Everything I wrote for the last few years came out this way. I don't know if it's because I grew up in it; I don't know if it's because it comes more natural to me. That and the combination of, this is the way to tell the stories I want to tell. The things that I'm going through that I want to do, and being close to my family and being here in Nashville, this is the way to live for me, and that is something that I want to grow old in."
If you haven't checked out Ryan Follese before, make sure you check out his music on iTunes, Google Play and Amazon. Also, keep up with him via his website or follow him on Twitter at @RyanFollese and Facebook for his latest news and concert schedule.
I just included Follese as one of fifteen country music artists you need to have on your playlist, so make sure you go and give him a listen.
So what did I miss? Have you seen Ryan Follese live? What do you think of this guy?
Please share your thoughts in the comments section below.