So I have been really excited to write about this one since early summer. Trust me. This is one you are gonna want to read (and then go out and pick up the album).
First, a little background…
Although Cash Creek  may be considered a relatively new band on the country music scene, it's members have enjoyed long histories and friendships together. Each member has carved out their own niche in the music industry as entertainers, road and session musicians, producers and songwriters.
The list of artists that the members of Cash Creek has worked with is nothing short of impressive. That list includes the likes of Brad Paisley, Taylor Swift, Trace Adkins, Alabama, Hank Williams, Jr., John Michael Montgomery, Josh Turner, David Lee Murphy and many more. Needless to say, the band knows what it takes to be successful.
So, I'm originally from the town of Petaluma, located in Northern California. Much of my family still lives there. My mom lives in Hidden Valley Lake (California) and teaches at Middletown High School. Every time I drive up to her house, I have to go through Napa, Angwin and Pope Valley, which is basically a quick stop between the Napa Valley and the Lake Berryessa. So do you want to take a guess where Cash Creek is from?
You got it. Pope Valley. Small world, right?
Anyways, I digress. When they formed Cash Creek, the band members knew they wanted to create a sound that would reflect a common vision, and maintain a cohesiveness that would be instantly recognizable, regardless of the song.
Band members Monty DeVita and Kimo Forrest have been friends since elementary school and they met James Blaylock back in high school. DeVita started playing rhythm guitar in Forrest's band when he was just 13 years old, but he eventually handed in his guitar to focus on playing bass, which he still plays for Cash Creek. He also adds his vocals to their harmonies. Forrest focuses on vocals, guitar, keys and now producing. In fact, he produced their latest release, Duality: The Center and the Edge (more on this later).
Cash Creek is a unique blending of vocals and guitars, with a little bit of fiddle and mandolin thrown in. Why not, right. The songs and production are of such a high-caliber, it's hard to believe these guys are self-produced. With their distinctive sound, and especially the catchy hooks, you're going to want to listen to Cash Creek over and over again.
Now, on to the new album "Duality: The Center and the Edge".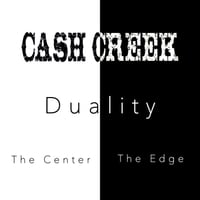 "Duality" is the culmination of decades worth of influences on Cash Creek from a variety of genres. This double album is a collection of twenty four songs, divided into groups of twelve, which the band refers to as "The Center" and "The Edge".
"The Center" contains a sampling of straight forward country music, while "The Edge" contains tunes and performances that could easily be found on any playlist from Americana to hard rock, to funk and more.
Sounds like the playlist I have at home, in my car, just about everywhere!
To put it mildly, the boys in Cash Creek have truly outdone themselves on their latest, double album. I had extremely high expectations for this album and I was concerned that these expectations might lead to a letdown with the finished piece. However, I was pleasantly surprised that my fears were immediately quashed upon my first listen.
For me, "Duality" has a full circle feel to it. It comes at you in one way and then takes you in a number of directions, only to bring you back to the band's roots in the end. That's not something I can say about many of the albums I listen to. A lot of albums these days seem to be rushed, thrown together without any rhyme no reason. But "Duality" is different. I believe that this comes from the quality of lyrics on songs spanning both parts of the album, as well as the melodies and rhythm in every track.
"My One and Only Weakness" is, and will be, the standout song on the album that people will be talking about. The song is already seeing some movement on the charts. "Good Ole Days" is another song on the album which definitely has a nostalgic feel, reminding you of your favorite times in the past. Other tracks that jump out at me include: "All Wrapped Up", "One More Night", "The Neighbors Do Too", "Should've Loved" (featuring William Shatner & Jeff Cook) and "Turn it Up".
I had the opportunity to listen to the album from beginning to end a few times on my cross country road trip this summer. I'll admit…it's just what anyone needs to pick them up from a hard day at the office, or just working out in the yard. There is not one song on "Duality" that will disappoint you.
Most of all, I love the multi-genre influence on the two parts that make up both halves of the double album. I have always felt that this is something missing in traditional country music, and I'm glad to see more and more artists putting this into their music. It really helps to draw a larger audience. Go check out the album and you'll see what I mean!
You can find more information (and purchase the album) here: https://cashcreekband.com/product/duality-cd/
Also, don't forget to follow the band on Twitter at @cashcreek and on Facebook.
Give these guys a chance! Trust me, their music is worth your time.